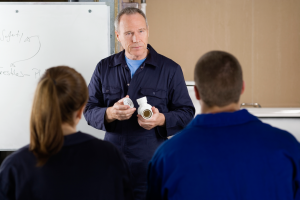 Need help finding, interviewing or hiring your installers? 
We can help with that too!
We Can Take the Stress Out of Training Your Installers
What is Your Biggest Challenge in Training a New Installer?
Experienced but Toxic Trainer?

Impatient Trainer?

Time?

Insurance Claim Risks?

Training Facilities?
Register before December 1, 2022 and save 50%
For less than the cost of one insurance deductible, our 4 week course will provide more actual hands-on training than most new installers will receive in their first 6 months.  The first 3 weeks of virtual training will include:
Softener, Filter and RO Basics
Proper Drain Connection
Pipe Joining
Job Preparation
Reading a Plumbing Assessment
Best Practices
Let them Make Their Mistakes in Our Training Facilities, Not your Customer's Homes
Following successful virtual training, new installers will visit our state of the art training facility where they will:
Install a minimum of 4-5 units (from box to pressure testing)

Unit placement
Proper drain connection
Valve set up and programming
Pressure testing
Basic trouble shooting

Reverse Osmosis install

Granite or Marble Drilling
Proper Drain Connection
Ice Maker Connection
Training for each installer will be customized to focus on the situations your installers are most likely to encounter  If your company mostly uses PEX, your installer will practice with PEX.  If your company uses Pro Press or soldered connections, your installer will install in our facility using those methods.
In addition to a more experienced and confident installer, we will provide you with a detailed evaluation of your installer's strengths as well as areas that will need more practice.